I finally got around to getting our 2010 holiday cards ordered last week and now that they are in the mail, I can share them. They are super cute and a bit trendier than we normal go. I really like them. I had such had time choosing the final card, so I made hubby pick from the 12-16 cards I had picked and this is it: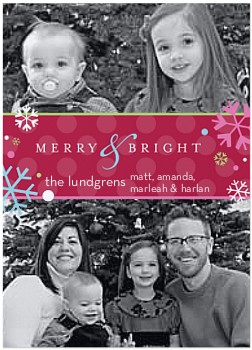 Spot The Snowflakes Christmas Card
We had a bit of a challenge taking our own photo and getting everyone to look at the camera and smile at the same time, but they turned out pretty good, if I do say so myself.